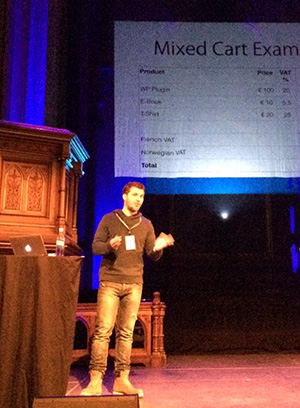 Hey! My name is Barry, thanks for dropping by 🙂
I gave different types of presentation over the past years. Some tech, some business, mostly in person but sometimes completely online. Interested in having me speak at your event? Drop me an email to talk details.
Below is a list with the talks I gave with, when applicable, slides.
2016
| Month | Event | Talk | Slides |
| --- | --- | --- | --- |
| Aug | WordSesh 4 | Starting a WP Business from Home | n/a |
2015
| Month | Event | Talk | Slides |
| --- | --- | --- | --- |
| Apr | Meetup Fryslân | Selling WordPress Plugins | Slides |
| Mar | Meetup Antwerp | WordPress Plugin Development | Slides |
| Feb | Meetup Oslo | Related Content | Slides |
| Feb | WordCamp Norway | We Will Vat You | Slides |
| Jan | Meetup Tilburg | Customizing Your WooCommerce Store | Slides |
2014
| Month | Event | Talk | Slides |
| --- | --- | --- | --- |
| Dec | WordSesh 3 | Unit Testing in WordPress | Slides |
| Sep | WP Tech Talk | Q&A | n/a |
| May | WordCamp Netherlands | Automating releases w/ shell scripts | Slides |
| Jan | WordCamp Norway | WordPress Plugin Development | Slides |
| Jan | Meetup Tilburg | Unit Testing | Slides |
2013
| Month | Event | Talk | Slides |
| --- | --- | --- | --- |
| Nov | Meetup Rotterdam | WordPress Plugin Development | Slides |