You can find many good resources and tools for your website to attract visitors. The first challenge for every (eCommerce) website is to generate traffic. But once you have pulled people onto your site, the next task is to convert them into customers. Conversion has become one of the most used KPIs for determining a stores success. There are countless ways to optimize your conversion but one well proven way when selling anything is to offer your product at the right moment to the right crowd. So if you got that crowd on your site, how to lead them into your store?
We are creatures of convenience and favor the path of least resistance. A direct and accessible offer is likely to be accepted and prevents most people from looking for other options. Ice cream you get offered in a shopping mall as you enter is more likely to attract you than another parlor located at the top in the food court. On a blog, the ice cream is your content. If users are reading one post, chances of them being interested in another can be increased by offering more at the right spot. Related posts offers such a way, by displaying similar and relevant posts at the end of the current entry. It is a successful way of maintaining users and uses the same principles as up- and cross-selling.
Running a WooCommerce store on your site? You probably know that blogs are a very efficient and likable way to promote your products. For you, the ice cream are your products. You will have a hard time selling it, if setting up shop at a convention for a healthy lifestyle. But if you bring your ice cream truck to the park or the boardwalk, you will find many customers deciding spontaneously for a cold treat. Products can be promoted that obvious in the digital world as well. If you are using Related Posts for WordPress Premium your related content can be posts as well as custom post types as in WooCommerce products. You can display your ice cream, right where interested people are mingling, reading your post.
Related posts follows the same principle that is applied to products in online shops (and supermarkets and pretty much any brick and mortar store out there). Everybody of us has reached for that last minute candy at the register before heading out. And everybody who has ever visited an IKEA with the firm resolution to not buy anything probably walked out with that cute new lamp or sturdy bamboo board.
Setting up Related Posts for WordPress Premium
To have related posts display products underneath your content, start with this setup. After installing the plugin in your WordPress site, you start by assigning products to posts so they are related to each other. You can do so by going to the Installer menu which you find at Settings —> Related Posts —> Installer.
Instead of linking Posts to other Posts, you link them to Products and hit save.

The plugin will then calculate the relations using its built in algorithm. If you are more interested in how the system determines what is related and what isn't, you can read about it here. As soon as the plugin has cached all the relations between the different posts and products, you can navigate to the post you want to have linked – or get started writing them.
Underneath each post in the backend, you will find a box for related posts, displaying the product(s) that fit your content. If you are writing a new post, you have to publish it first, before the plugin will automatically find the related products. If what you are looking for is not displayed yet, you can also link it manually by clicking on "Add Related Post" and link the product you are looking for.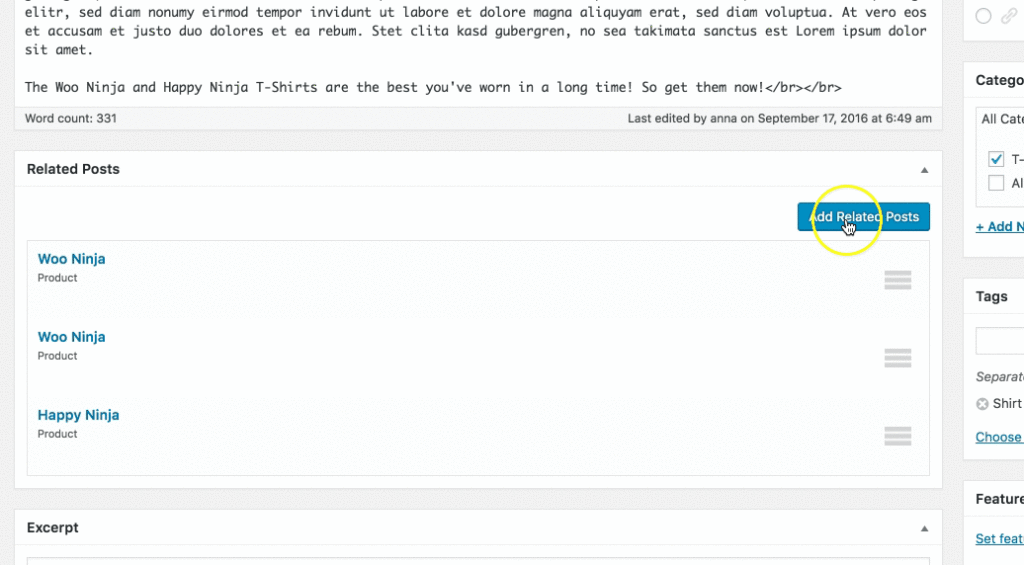 If you don't want to display all the products found, you can always delete the unwanted ones by hovering over the item and clicking "unlink post". Though if you always only want to show one, you can also change the amount of products in the installer.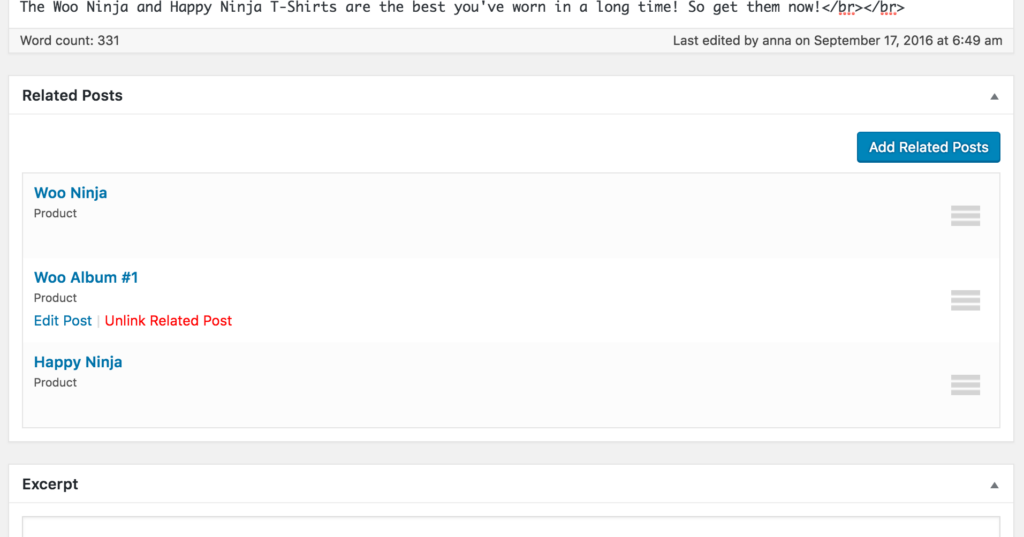 If you look at your post now, you will find all the linked products right underneath your content. Every visitor that now reads until the end, is only a click away from the product in your store.
Styling the Related Products
As the plugins pre-settings relate to posts, you might not like the headline "Related Posts" or the post excerpt displayed. Luckily, you don't have to settle for this as you can change the output in the settings.
If you want to adapt the Related Posts for WordPress content there, navigate to Settings —> Related Posts —> General.
In the Frontend Settings, you can change the headline and put whatever you wish to display above the related products.

By navigating further to … —> Styling you can then change the look of the products. You can for example decrease the image width and change the post excerpt to a read more link stating 'Shop now'. Really any other styling you require.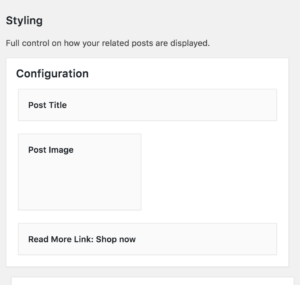 These are the basic setup steps for me, when trying to get customers to click on products. There is plenty more to choose from however. Browse through all the other styling possibilities the plugin offers. I encourage you to play around and make it fit to your personal website style.
All set, ready to go
You now have related products with the styling you set up appearing right underneath your post content. Your readers will be tempted to continue their journey to your shop to go and check out what they just read about. You made them hungry, now hand them their ice cream. Happy selling!