One of the things I see a lot when I log into someone's WordPress website are notifications. I've logged into websites where I had to scroll down because notifications pushed the actual page content below the page-fold. I understand notifications are important and why we add them but does that mean they have to be in your face on every single page? I don't think they should and that's why I created WP Notification Manager.
WP Notification Manager
WP Notification Manager is a small WordPress plugin that catches all of these notifications you would normally see on every admin page and puts them into your Notification Center. The Notification Center and your notifications are accessible via your WordPress toolbar (the black bar on top of each WordPress website) but won't be displayed by default. There is a small number shown in your toolbar to let you know how many notifications are in your notification center.
So what would by default looks like this:

Will now look like this: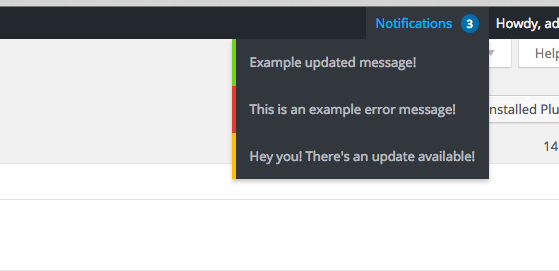 The plugin catches all properly added WordPress notifications so you can install without having to adjust anything to your current website.
This first version is very basic but I wanted to check first if there are actually people who would like to use this 🙂 A future version could for example add the possibility to dismiss notices from the notification center. Also, because WordPress developer basically have complete freedom in what they're adding as a notification, some notifications might look a bit funky.
The plugin is already available on GitHub, WordPress repository access has has been requested and in the WordPress repository. I would love to hear if you like this plugin, what you're missing in the current version or why you think this is a terrible idea.