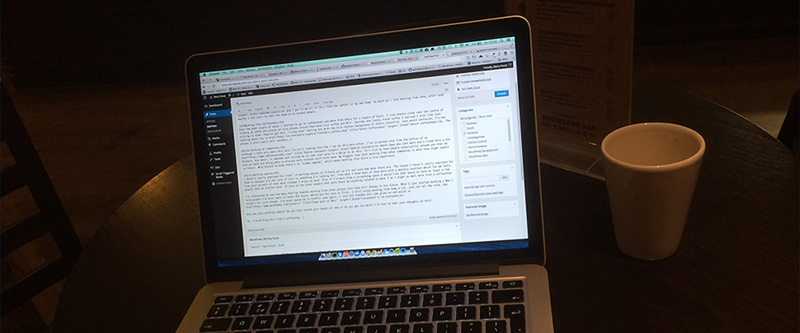 A few months ago I joined WooThemes. Working for WooThemes is awesome. I get to work on an awesome project (WooCommerce) with awesome people and I can do all of this from the comfort of my own home. As much as I love working from home, after some months I started to feel the need to get out of the house more.

Working from Coffeeshops
Over the past couple of weeks I started to go to coffeeshops and work from there. I live pretty close near the centre of Tilburg so there are plenty of nice places around that have nice coffee and WiFi. Besides the fresh coffee I noticed I also like just sitting at coffeeshops. They've got this 'living room' feeling combined with the nice background chatter. To avoid confusion, I'm not talking about the Dutch coffeeshops. The places I visit don't sell cannabis 😉
Co-working at companies
Although I have only done this once I'm still looking into how I can do this more often. I've co-worked once from the office of Radish Concepts where Gaya and Coen work and I liked this a lot. Richard, the owner, is awesome and invited me to come over once in a while to do this. It's nice to have people (physically) around you that do similar work so you're able to discuss work related stuff with them.
Co-working spaces
I haven't really searched for 'real' co-working spaces in Tilburg yet so I'm not sure how many there are. The reason I haven't really searched for them is because I'm not sure if this is something I'm looking for. As far as I know most of them work with a monthly contract which for me feels like giving up a part of that work freedom I enjoy so much. Plus if I'd work from a co-working space I would like that space to have at least a few people that do similar work. If none of the other people at a co-working space do anything related to what I do I might as well work from a coffeeshop.
When I started working a Woo I thought I'd never want to leave the house, which was the case at first. I still enjoy working from home a lot, just not all the time. One thing's for sure though, I'm never queueing up in traffic jams (again). I love the freedom this job gives me and would recommend it to everyone.
Are you also working remote? Do you stay inside your house all day or do you get out much? I'd love to hear your thoughts on this!
Ps. I'm writing this from a coffeeshop 🙂