When I started off with WordPress I had trouble finding out what file I needed to edit to change the page I was viewing in my browser. I've checked the Template Hierarchy dozens of times, trying to figure out what file was loaded by WordPress to display my page.

What The File
I figured that I wasn't the only one with this problem, everyone starts a beginner. In time you can dream the WordPress Template Hierarchy, but until then you might want to check out a plugin I wrote called What The File.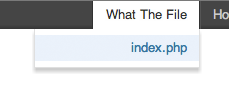 What The File adds an option to your toolbar showing you what file is used to display the page you're on. If you want to you can click the file name to edit it directly through the theme editor, though I don't recommend this for bigger changes. Since version 1.1.0 What The File also supports Roots Theme based themes.
What The File can be downloaded from the WordPress Plugin Directory or by clicking here. For support please visit the Support forum.