Today Related Posts for WordPress passed 1000 downloads! A small milestone in the eye of many but a pretty big one for me. I realize that download figures don't reflect plugin quality or user happiness but the fact that Related Posts for WordPress managed to pass 1K in 17 days is definitely motivation for me to keep going. Also the reviews on wordpress.org and mentions on Twitter are amazing to see, thanks a lot!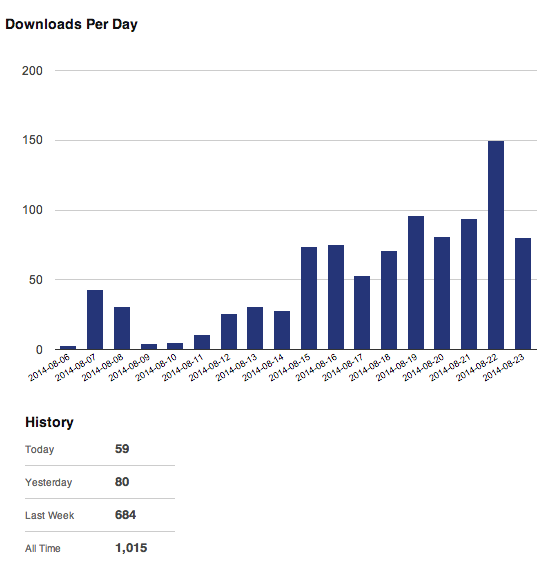 Version 1.4.0
Version 1.4.0 will be released pretty soon, it's just a few commits away from being pushed to dot org. Version 1.4.0 includes bug fixes as well as various new features, you can check the changelog to see all the changes.
RP4WP, you the real MVP
As you might have noticed the download counter isn't the only number that increased rapidly the past 17 days, the version did as well. When I started building Related Posts for WordPress I decided to push it live once I hit that MVP mark.
In product development, the minimum viable product (MVP) is a strategy used for fast market testing of a product or product feature to gain quantitative or qualitative feedback.
I choose to release Related Posts for WordPress as an MVP because I wasn't sure people were waiting for 'another related posts plugin for WordPress'. I've added the quotes because I strongly believe Related Posts for WordPress isn't just another related posts plugin, take the unique way caches related posts for example on which I'll write some more soon. So I decided to release a plugin that would do nothing more than show related posts, the first version didn't even had a settings screen!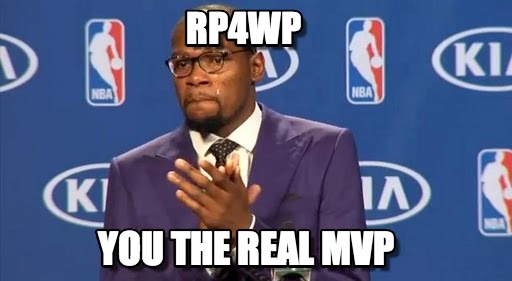 Update frequency
Great story so far right? Create a minimum viable product and add new features rapidly based on the feedback you get. I must admit, from a developer side this has been an absolute joy so far. Nothings keeps the momentum high like releasing new features every few days. This feeling of momentum must be shared by users right? I mean, they're receiving new features every few days, who wouldn't love that? Right?
Well, in this momentum high I didn't realize this high amount of updates in this relatively short period of time might come over as a lack of quality. One might interpret these updates as a desperate attempt to fix errors. Just to clear this up, in the last 7 updates I've only had to fix 3 minor bugs of which only one update was released solely a 'bug fix release'.
I do however understand that for various reasons this high amount of updates can be annoying and because Related Posts for WordPress has proved it's added worth to the community (in my eyes) it's already losing the 'MVP' label. This definitely doesn't mean future version will add all kind of bells and whistles, simplicity will always be key for the plugin. It does mean that I will release larger updates on a less frequent interval.
Future versions
So what will be included in future version of Related Posts for WordPress? Well, to be honest, I don't know. Beside some minor changes/improvements there are no major new features on the roadmap. When multiple users request a feature and it doesn't goes against my vision of the plugin it will most likely be build and implemented in a future version. So if you're missing a feature that you think should be included in Related Posts for WordPress, be sure to let me know.
That's it for now. If you haven't tried Related Posts for WordPress yet, be sure to download it here and give it a go. Thanks again to everyone that's been supporting Related Posts for WordPress so far and as always be sure to let me know what you think by leaving a comment below.